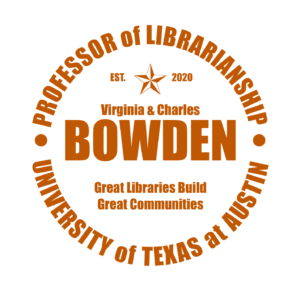 For a year I've been playing around with a logo for the work of the Bowden Professorship. I know it sounds minor, but for me a logo is a sense of identity. It not only creates a visible mark for sponsored activities, it makes it seem "real" but beyond just me.
The generous gift of Virginia and Charles Bowden supports my work, yes, but also library science students at the Texas iSchool. It supports library experts, speakers, writings, conversations and more as the work progresses.
One note on the logo itself. The motto added "Great Libraries Build Great Communities" is an obvious riff on my quote about bad good and great libraries. I did think to add great librarians build great communities, but wanted to put out a bigger tent to recognize library staff, boards, friends, and the whole ecosystem.