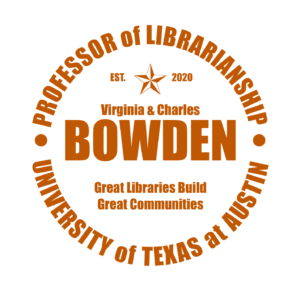 The Bowden Professorship links projects, funded research, publications, and professional development conducted or supported by the Virginia and Charles Bowden Professor of Librarianship.
The overall goal of the work is to strengthen the connections between The University of Texas at Austin School of Information and the international library community. As such the majority of the work will include strong collaborations with practitioners.
The professorship is made possible with a generous endowment by Virginia & Charles Bowden.
Click here to learn more about the Bowdens.
Advisors
Advisors help inform the work of the Bowden Professor. It is an informal advisory group:
Roosevelt Weeks, Director of Libraries, Austin Public Library
Angela Craig, Director, Charleston County Public Library
Lorraine J. Haricombe, Vice Provost and Director, University of Texas Libraries at The University of Texas at Austin
Jim Neal, University Librarian Emeritus at Columbia University
Jeff Panka, President/CEO, LittleSeed, Inc.
Fellows
Agenda Fellows are outstanding individuals from practice and academia working closely with the Bowden Professor to push forward an agenda of improving libraries and library science education.
2023-Present
Kimberly Silk, Principal Consultant for Brightsail Research and Sessional Lecturer at the University of Toronto.
Susan Gregurek, Library Director Jarrell Community Library and Resource Center.
Margo Gustina, Library Researcher at Communities+Libraries
Bowden Capstone Scholars
Library science students are working on final projects in the University of Texas at Austin's Masters of Information with support from the Bowden Professor and Bowden Excellence Fund.
2023
Melissa Deuber – Designing a survey that will be distributed to Austin Community College students that evaluates their access to technology as well as which software they are most interested in using on library computers.
Emma Bekele – Working with the Pottsboro Public Library to expand their services throughout Grayson County to promote diversity, equity, and inclusion (DEI). To support this DEI initiative, I will create fliers to advertise library books and services throughout the community and produce a DEI training guide for the library board based on research and best practices.
Parker Zimmerman – working with the New Jersey State Library to research state-wide econtent purchasing models, with a focus towards ebook purchasing. Specifically, I am surveying the current state of consortial/cooperative ebook purchasing models through the distribution of surveys, by consulting existing literature on consortial ebook purchasing, and by meeting with library staff across various states.
Tyler Roberge – Working with the Library Development and Networking Division of the Texas State Library and Archives Commission to collect and create the content and guidelines for their upcoming Texas Workforce Development webpage to be publicly accessible from the Commission's website.
Rachel Poppen – Providing basic research on rural librarianship for the creation of an academic center for rural librarianship. The work includes research and literature reviews around rural librarianship, support for studies on rural librarians, credentialing, and finding models for this type of work/center at other institutions.
2022
Chloe Santiago – framework for a grant-fundable program to train library leaders on power building and political and financial literacy specifically geared towards libraries who struggle to receive adequate funding, particularly those in low-income areas and historically BIPOC communities
Sarah Varenhorst – With San Diego State University's health science librarian developed resources related to health science information, with a focus on vaccines and the COVID-19 pandemic.
Jessica Gonzales – Worked with the Chattanooga Public Library in looking at ways to enhance its Summer Reading Programs and transform them into true early literacy efforts.
Emma Hetrick – Worked with the U.S. Embassy in Rome on the American Corner YouLab in Pistoia and the American Corner in Trieste. The goal of the project was to enhance the reading collections of both Corners, as well as create a better understanding of studying in the U.S.
Miriam Early – Worked with the Georgia Public Library Service to provide management, training, and support for GPLS's DigEx program, which offers administrative support for public library-created digital exhibits.