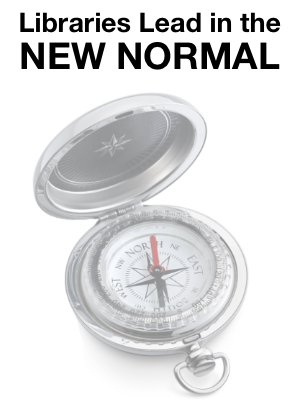 Libraries Lead the New Normal is a new podcast hosted by Mike Eisenberg (Dean & Professor Emeritus, Information School, University of Washington) & David Lankes (Director & Professor, iSchool, University of South Carolina).
There's an emerging new normal. 2020 was brutal and has affected all aspects of our lives. As we come out of the pandemic in 2021 and beyond, we must ask, "Are these changes temporary and short-lived or are more fundamental and long-term?" It seems like this is a good time for re-examination and possibly reset of home-life and work-life, education, commerce, social life, politics, and even recreation. We think that this can be a valuable time for life-altering, ground breaking, and transformative change.
And of course as librarians and information science educators, we know that libraries and librarians have major roles to play as society comes to grip with this new normal. Some of these roles and opportunities are new, but all build on core library functions, services, and responsibilities involving focusing on people and communities and their needs related to information, resources, books, services, place, access.
In this podcast, Libraries Lead in the New Normal, we will cover such topics as lockdown and isolation, social justice, political unrest, mis- and dis-information, kids, family and adult living; education and learning; work, employment, training and jobs; recreation, entertainment, and play; disasters & emergency preparedness; and more. Our focus with all these things is the nature and scope of the role of libraries, librarians, information, library functions, services, and systems.
The podcast aims for 3 main segments in 40 minutes starting with wazzup with Dave and Mike, a main topic discussion (and sometimes interview) and an awesome library thingy from each of us for this episode.
Check out the Website with links to episodes and services to subscribe.