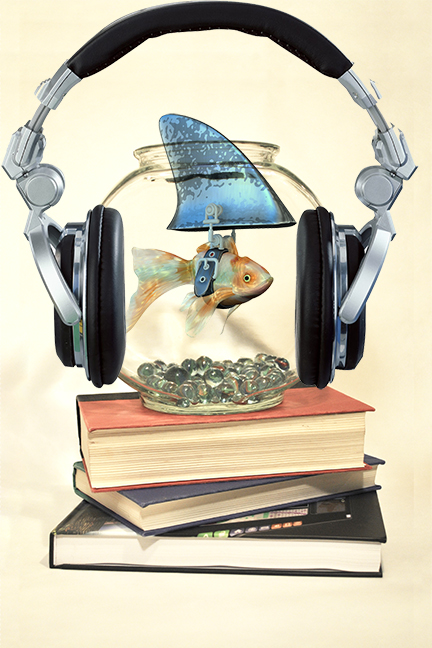 [TL;DR version: Working with Circulating Ideas and the NerdAbsurb podcasts I'm making an Expect More Audio book.]
There are some great reasons for doing books with publishers. You get great editorial and design assistance. There is no way I could have done the Atlas of New Librarianship without MIT Press and ACRL. However, there also a lot of benefits to self-publishing. One of them is complete control of your intellectual property. So I can decide to make Expect More free to download: prioritizing reach over income (it also helps to have a day job). I can also use something like Expect More to try new things which brings me to today's post.
I want to try and make an audio book. I want to learn about the whole recording/editing/publishing thing. I thought some of you might want to come along for the ride. So, I am recoding Expect More as an audio book. Based on suggestions from you folks, starting next week I'll be releasing the book as a set of podcasts a chapter every two weeks.
Rather than starting a new podcast, I am lucky enough to partner with some fantastic sites. Circulating Ideas and the NerdAbsurd podcasts will be publishing the chapters throughout the fall. I also plan to compile all the recordings and sell it as an audio book through Audible.
Here's the anticipated schedule:
Sept 9: Introduction and Chapter 1. The Arab Spring: Expect the Exceptional
Sept 23: Chapter 2. The Argument for Better Libraries: Expect Impact
Oct 7: Chapter 3. The Mission of Libraries: Expect More Than Books
Oct 21: Chapter 4. Facilitating Knowledge Creation: Expect to Create
Nov 4: Chapter 5. Improve Society: Expect Grander
Nov 18: Chapter 6. Communities: Expect a Platform
Dec 2: Chapter 7. Librarians: Expect Brilliance
Dec 16: Chapter 8. Action Plan: Expect More
Along the way I plan on posting some information on what I'm learning in the process.
Here is some more information on the Circulating Ideas and NerdAbsurd podcasts:
Circulating Ideas is the librarian interview podcast hosted by Steve Thomas. Since 2011, it has facilitated conversations about the innovative people and ideas moving libraries through the 21st century and beyond. Find the show online at www.circulatingideas.com and on Twitter @circideas.
NerdAbsurd started in September 2012 with some friends who met at the Dallas Makerspace. The podcast began with four members and was based on science, technology, and cultural topics from the standpoint of semi-hip 20-somethings.   Now, two years later, half of us are in our 30?s, and we still stand by our motto: Not in enough for the in crowd, not out enough for the out crowd.  We are NerdAbsurd.
Have other ideas or advice on an audio book, please share.