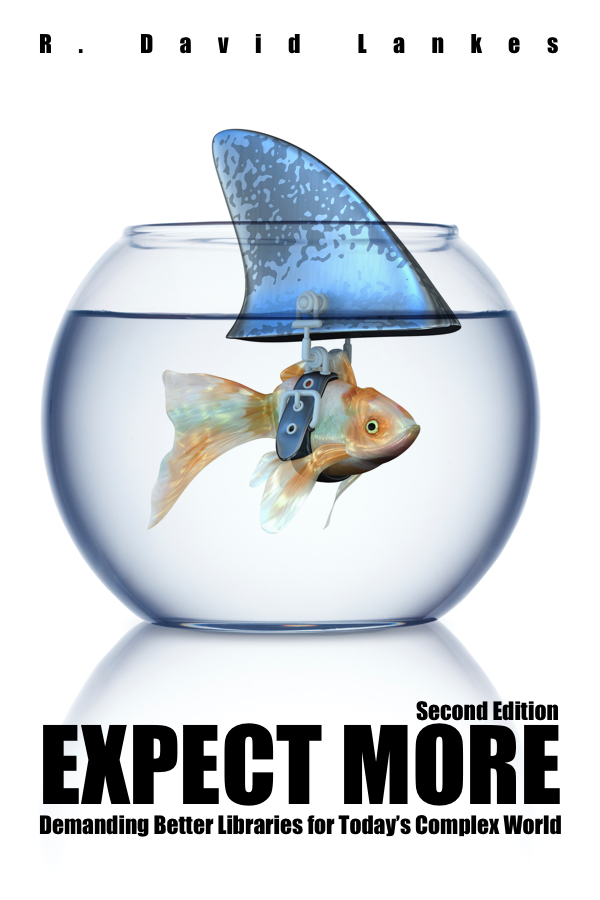 The Second Edition of Expect More: Demanding Better Libraries For Today's Complex World is now available for purchase (Expect More Collaboratory Members receive free copies).
You can purchase it from:
Paperback:
CreateSpace Online Store (preferred) and Amazon
eBook:
If you are interested in bulk discounts please contact me at [email protected]
Thanks to all the Collaboratory partners for their help. Keep an eye out for Greater Expectations, the Expect More Workbook for engaging your community in conversations.
---
Here is a brief Changelog to highlight major changes:
Introduction
Changed the acknowledgements to recognize Expect More Collaboratory partners
Chapter 1
Revised estimated expenditures of libraries in North America and Globally. First edition grossly underestimated them.
Added OCLC examples of library usage.
Added Ferguson, Calgary, an NYC examples
Chapter 2
Added "Third Space" as a core argument for libraries.

Included examples like Toronto's study pods and Fairfield's treehouse themed children's library.

Updated journal and database figures
Added Canadian statistics for literacy
Added StoryCorp and DPLA examples for Cultural Heritage
Added Toronto, Cuyahoga, and DC examples of supporting entrepreneurs
Chapter 3
Updated a lot of URL's and mission statements.
Chapter 4
Added more examples in the training section
Added the Lebanon, NH Tor case as an example of protecting intellectual safety.
Chapter 5
Added discussion of how communities must share limited resources and how that can lead to conflict.
Added a discussion of hot spot lending
Chapter 6
Updated examples
Incorporated Aspen Report's People, Platform, Place
Added section on the Community as Collection