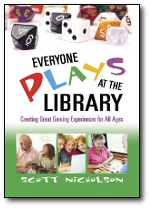 I really get no kickback, I'm just a huge fan of Scott Nicholson and his work on gaming in libraries. Now he has taken his research, his practice, and all of his great work with librarians and put it into a book that I highly recommend:
Nicholson, S. (2010). Everyone plays at the library: Creating great gaming experiences for all ages. Medford, N.J: Information Today.
Aside from a really great guide to gaming in the library, it is a fantastic example of good research combined with good practice.
http://books.infotoday.com/books/Everyone-Plays-At-The-Library.shtml