Trip report: Netherlands and Oslo
Greetings all. I think it is useful for folks to share what we learn as we travel. We can identify broader opportunities and learn about a broader landscape than we could on our own. 
The past two weeks I have been in Europe. On the 15th and 16th of January I was part of two meetings. The first was with a group called Public Libraries 2030. It is a not for profit created to promote and support public libraries in Europe. They have built up an impressive roster of elected representatives to the EU Parliament that pledge to support libraries. 
PL2030 also runs a number of funded projects with backers like the EU, Google, and Microsoft. They host an annual gathering for librarians and members of parliament called Generation Code: Born at the Library that is an interactive exhibition showcasing the top innovative digital exhibits from public libraries across the EU. 
Aside from a general update meeting, we were writing up an Erasmus + proposal around building mentorship and projects for new librarians (with an opportunity for our students to participate).
The second meeting was with the Royal National Library of the Netherlands, the Berlin Public Library, several library organizations in the Netherlands, and Italy. We discussed setting up a system of projects across the EU on common themes that would also train new librarians and library science students principles of community-centered librarianship. 
While I was there I also met with the instructor of a course in Community Librarianship that we at the University of South Carolina have teamed up with on the professional development front.
These projects have special significance for the Netherlands as they no longer have any library science degree programs. Hopefully something like this could serve as a foundation for one. 
Thanks to School of Library and Information Science Fellow Erik Boekesteijn and to Lily Knibbeler Director General of the National Library for hosting us.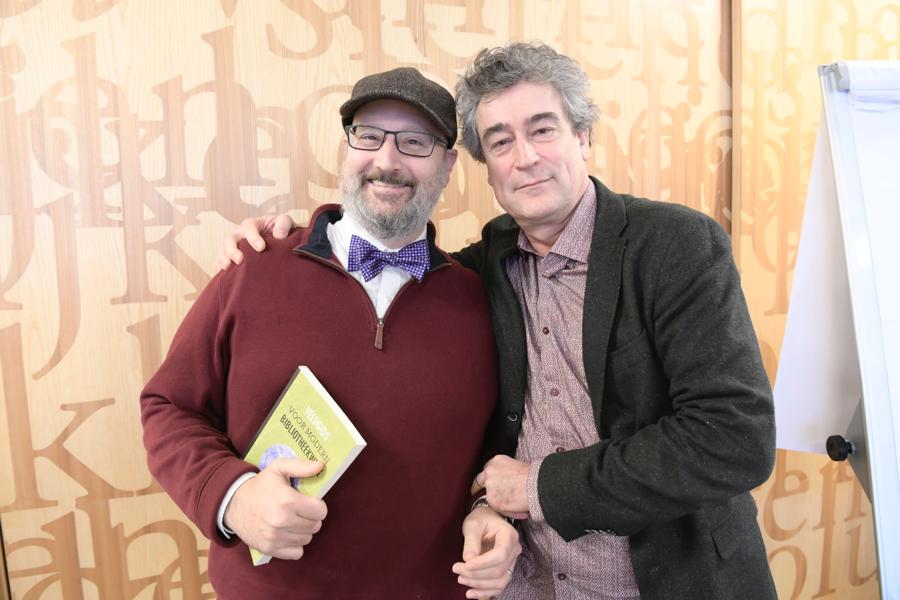 I also had the great joy of seeing the first draft of the Dutch version of the New Librarianship Field Guide (already sold out) and some of the students that are using it as a textbook. Special thanks to Gert Staal for his work in translating the book!
This week I have been in Norway. I was invited to speak at the wrap up conferences for two very interesting and important projects.
---
The first was a project across Scandinavia and Germany to study the effects of "digitization" on the public sphere called ALMPUB. Digitization here is not about scanning documents, but converting analog functions to digital like paying taxes, getting government information, e-commerce and the like. 
Since 2016 the project team has been reviewing policies, conducting surveys and doing anthropological observation of folks in Libraries Archives and Museums. I strongly urge you to read the following report. It shows that as digital requirements have accelerated, so have use of analog public service agencies like libraries, museums, and archives. One hypothesis is increased digital has people seeking out the physical aspects of community.
Audunson, R., Aabø, S., Blomgren, R., Evjen, S., Jochumsen, H., Larsen, H., Rasmussen, C., Vårheim, A., Johnston, J. and Koizumi, M. (2019), "Public libraries as an infrastructure for a sustainable public sphere: A comprehensive review of research", Journal of Documentation, Vol. 75 No. 4, pp. 773-790. https://doi.org/10.1108/JD-10-2018-0157
One of the highlights of the trip was to meet, dine, and talk with the great Professor Ragnar Audunson of OSLOMet.
A VERY interesting thing that is happening in Scandinavia; the library legislation that mandates public libraries in Norway and Finland both have convening and facilitating "democratic conversations" as part of the law. Public libraries of all sizes are currently building projects and programs to meet the mandate. It should be very interesting to watch.
While in Oslo I got to tour the newly renovated branch libraries and the new central public library.
The two branches we visited had experienced 200% usage jumps after the renovations. The first was all about light and openness.
The second branch was all about being a living room and club in the middle of a gentrifying neighborhood. Karen Gavigan would have loved it. A large part of the collection (like up to 70%) were graphic novels. They hosted an annual con there as well as two stages set up for live performances and music. The upstairs was dedicated to kids. Thee two libraries demonstrated in the most beautiful way how libraries should reflect their communities.
Then it was off to the new central library being built (I wasn't allowed to take pictures because this is for the people of Oslo and they are really the first to experience it – love that). It is an amazing structure. However, what I found interesting was that only 50% of the collection from the former central library will be making the move. The rest have been handed to the National Library if they want them. The plan, by the way, is not to make room for newer materials, the plan is for a collection at the halved size going forward.
My last day in Oslo I gave a lecture to the library science program there (also an iSchool). They are talking about the fact that libraries are not required to hire librarians (those with a bachelors or masters) and some libraries are hiring folks from other fields (not familiar at all huh). They were very interested in the new curriculum we developed at SLIS both the process and the outcome, and the idea of a core course around communities.
---
My last stop in Norway was for a project funded by the National Library of Norway and headed up by the Tønsberg and Notteroy public library (about 1 1/2 hours by train south of Oslo). Libraries across the country surveyed the general population about where they got their information. It then examined the current tools and methods reference libraries use in answering questions. Lastly it engaged a marketing firm to think about a campaign around information consultants/reference librarians. The hope is possibly to build a national reference service.
I cannot express to you just how amazing the Tønsberg public library and those that work there are. It is literally built on the site of a former monastery and viking graveyard. The have kept the foundation stones for the monastery as a feature of the building, and carved replicas of the viking funeral boats into the floor. It is an amazing example of incorporating and honoring their past with their future.
A very special thank you to Britt Sanne and director Tone Eli Moseid (who introduced me to the life of a viking).
---
So there you are. I really think I am in love with Norway and certainly with the Norwegian library community. Thank you all for your hospitality. Apologies for errors and omissions – just let me know and I'll fix them.