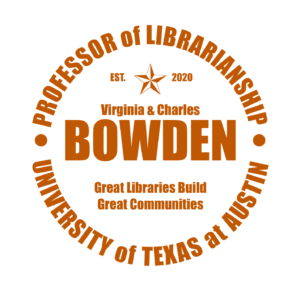 I'm happy to announce the 2023 cohort of Bowden Capstone Scholars. Bowden Capstone Scholars receive a stipend for their capstone projects, connection to real projects in great libraries, and group mentoring on they field.
Here are the scholars and the organization they're working with:
Tyler Roberge, Texas State Library and Archives Commission
Sarah James, Bowden Professor Rural Library Initiative
Parker Zimmerman, New Jersey State Library
Emma Bekele, Pottsboro Public Library
Melissa Deuber, Austin Community College Libraries
Rachel Poppen, Bowden Professor Rural Library Initiative
I'll be posting more information on each scholar in other posts. As always, a big thank you to the family of Virginia and Charles Bowden for their generosity. The gift from Virginia and Charles is helping create strong connections between library science students and the profession.