Many folks have asked how the first day of classes were last Thursday. The University of South Carolina decided to have in-person classes (as well as virtual and hybrid at the faculty and student's discretion). Here is a letter I wrote to the alumni:
Yesterday was the weirdest first day of classes I have encountered in 22 years as a professor. Normally the first day is all about a packed campus – and grumbling over waiting for that bagel that had no line the week before. It is about students coming into the office looking for classrooms. It's about too many seats or too few seats in those classrooms. Online it's last minute phone calls about registration, or a bill, or needing Blackboard access. It is a bit of endearing chaos filled with expectations of a great new year.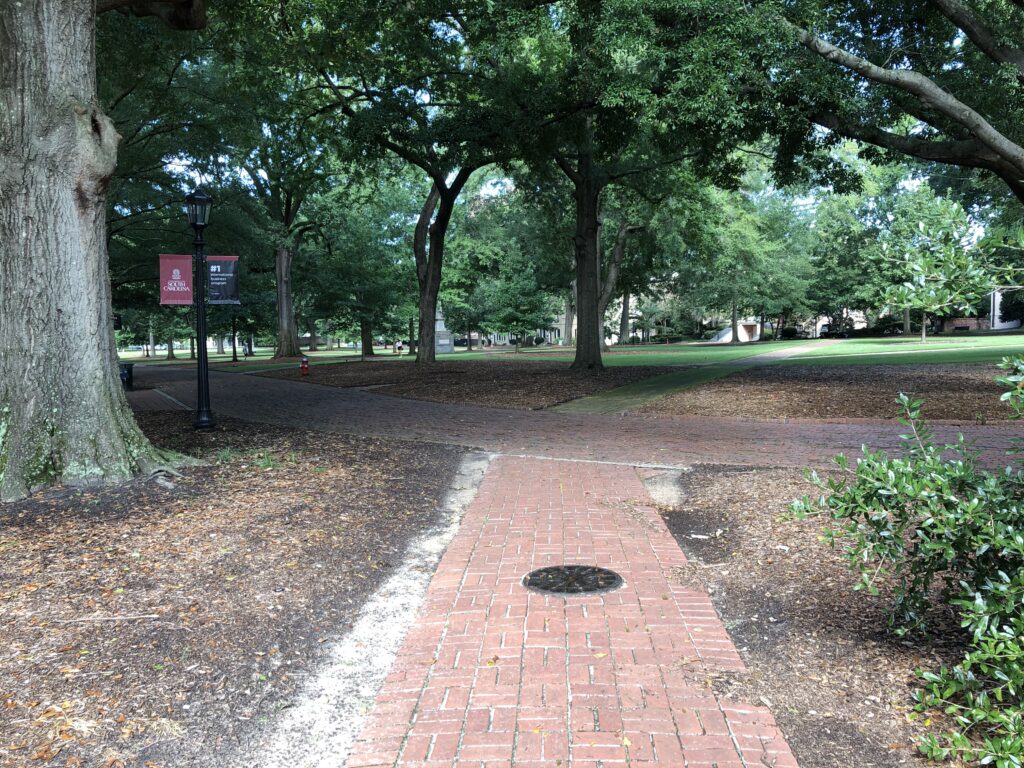 Yesterday I talked to two students who didn't realize a course had been moved online and I thanked a class for wearing masks and keeping us all safe. That was it. Good lord it was even a productive writing day.
This oddly quiet day was a sign of success. While the chaos is endearing, it also can demonstrate gaps in planning or poor information sharing. A quiet opening day in a pandemic is about a prepared school. It is a testament to new all online orientation. It is about revised syllabi and a faculty taking the time to reach out to their students. It is about the often invisible labor of scheduling and budgeting.
The iSchool, your school, was ready for yesterday, just as we were ready to face the challenges of the pandemic last Spring. Through the work not only of today's faculty, staff, and students, but those throughout the history of the school we are perfectly situated to respond in these days of crisis and need. We were already either online, or ready to use our long experience in online instruction to make sure all of our students met their learning outcomes. That's thanks to folks like Dan Barron, Sam Hastings, Fred Roper, Charles Curran, Linda Lucas Walling, and Sarah Keeling that built the school over our 50 year history.
Our school is perfectly situated to help our society in these times of need. Active research and advocacy agendas in equity, diversity, and inclusion have provided valuable insight in the form of funded research, published scholarly articles, state-wide workshops, and online high-profile speaking events. We have an engaged alumni base that ensures attention to issues of racial justice. Our innovative graduates are defining a new normal in library service in the age of COVID. We are the hub of an international network of librarians, scholars, and information scientists sharing best practices and innovative projects.
All of our 50 years of history shows brightly now in dark times. This semester while our peer programs are dealing with a substantial reduction in graduate enrollment, ours Is up over 30%. We have received hundreds of thousands of dollars in federal research grants. We have hosted national events with the leaders in the fields of anti-racism. Our graduates are leaders of school libraries throughout South Carolina and in cities like San Francisco, Columbia, Spartanburg, Charleston, San Barbara and states like Vermont.
At the end of the day the lack of endearing chaos might have been odd, but the fact that the smooth surface of the day belied the amazing dedication and expertise of the faculty, staff, students, and alumni was nothing new at all.
It has been my honor and joy to be the director of iSchool these past four years. I wake up knowing that I am part of a community seeking and building a better, more just society. Thank you all for your help in making this a reality. I ask you to continue to support the school.